About Us
China Valley is a Chinese takeaway in Plymouth. Why don't you try our Boiled Rice or Aromatic Crispy Duck?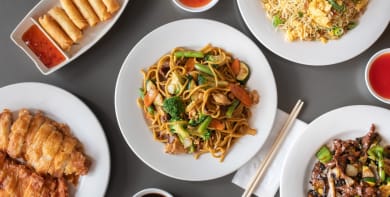 Reviews
319 reviews
Mike
"Great thanks"
16/07/2021
Mrs
"I ordered something I hadn't had from here for a long time. It was okay. It used to be really spicy (beef sambal) the juice was a bit wishy washy too."
08/07/2021
shaun
"Lovely meal, on time thanks. Will be ordering again"
07/07/2021
Tegan
"Forgot to order chips"
03/07/2021
Menu
Roast Spare Ribs in BBQ Sauce (Half)
£4.30
Roast Spare Ribs in Honey Sauce (Half)
£4.30
Spicy Peppery Ribs (Half)
Spicy
£4.30
Chicken Wings in Honey Sauce (Half)
£4.30
Spicy Peppery Chicken Wings (Half)
Spicy
£4.30
Chicken Wings in Sambal Sauce (Half)
Sambal sauce is a Malaysian sweet & spicy sauce
Spicy
£4.30
Chicken Wings in Black Pepper Sauce
Spicy
£4.30
Crispy King Prawn (8) with Thai Chilli Sauce Dip
Spicy
£4.80
Crispy Won Ton (9)
Deep fried minced prawn in pastry with sweet & sour sauce
£4.70
Aromatic Crispy Duck Quarter
With pancake, spring onions, cucumbers & Hoi Sin sauce
£8.60
Aromatic Crispy Duck Half
With pancake, spring onions, cucumbers & Hoi Sin sauce
£15.80
Malaysian Style Chicken Satay on Skewers
£5.40
Malaysian Style Beef Satay on Skewers
£5.40
Malaysian Style King Prawn Satay on Skewers (9)
£5.70
Vegetarian Mini Spring Rolls (10)
£3.60
Prawn on Toast with Sesame Seeds (6)
100% Prawn
£4.30
Curried Samosa (10)
Spicy
£4.20
Special Mixed Hors D'oeuveres
Spare ribs, curried samosa, prawn toast, mini spring rolls 4 each
£6.10
Chinese Style Tomato Soup
Choose from chicken, prawn, crab meat
£3.20
Crab Meat & Sweetcorn Soup
£3.30
Mixed Vegetable Curry
Spicy
£5.50
Thai Mixed Meat Curry Green
Hot
£6.00
Thai Mixed Meat Curry Red
Hot
£6.30
Thai Beef Curry Green
Hot
£6.00
Thai Chicken Curry Green
Hot
£6.00
Thai Chicken Curry Red
Hot
£6.00
Thai King Prawn Curry Green
Hot
£6.60
Thai King Prawn Curry Red
Hot
£6.60
Thai Shrimp Curry Green
Hot
£6.00
Thai Shrimp Curry Red
Hot
£6.00
Thai Roast Pork Curry Green
Hot
£6.00
Thai Roast Pork Curry Red
Hot
£6.00
Thai Roast Duck Curry Green
Hot
£6.60
Thai Roast Duck Curry Red
Hot
£6.60
Thai Mixed Vegetable Curry Green
Hot
£5.80
Thai Mixed Vegetable Curry Red
Hot
£5.80
Sweet & Sour Chicken Balls
£5.70
Sweet & Sour Chicken HK Style
£5.90
Sweet & Sour Prawn HK Style
£6.50
Sweet & Sour Pork HK Style
£5.90
Beef with Mushroom in Black Bean Sauce
Spicy
£6.00
Beef with Green Pepper in Black Bean Sauce
Spicy
£5.90
Beef with Broccoli in Oyster Sauce
£5.90
Beef with Broccoli in Black Bean Sauce
Spicy
£5.90
Beef with Ginger & Spring Onion
£5.90
Sliced Beef with Bean Sprouts
£5.80
Shredded Crispy Beef in Spicy Sauce
Spicy
£6.00
Chicken with Mushrooms in Black Bean Sauce
Spicy
£6.00
Chicken with Green Pepper in Black Bean Sauce
Spicy
£6.00
Chicken with Broccoli in Oyster Sauce
£6.00
Chicken with Broccoli in Black Bean Sauce
Spicy
£6.20
Chicken with Ginger & Spring Onion
£5.90
Chicken with Bean Sprouts
£5.80
Sliced Chicken & Bean Sprouts in BBQ Sauce
£5.80
Chicken Wing & Honey Sauce
£5.80
Crispy Chicken in Sweet Thai Chilli Sauce
Spicy
£6.10
Crispy Chicken in Plum Sauce
£6.10
Crispy Chicken in Fruity Sauce
£6.10
Honey Mustard Chicken & Sesame Seeds
£6.30
Golden Chilli Chicken
Hot
£6.20
Shredded Crispy Chicken in Spicy Sauce
Spicy
£6.00
King Prawn with Mushrooms
£6.50
King Prawn with Mushrooms in Black Bean Sauce
Spicy
£6.50
King Prawn with Green Pepper & Black Bean Sauce
Spicy
£6.50
King Prawn with Broccoli in Oyster Sauce
£6.50
King Prawn with Broccoli in Black Bean Sauce
Spicy
£6.50
King Prawn with Pineapple
£6.50
King Prawn with Ginger & Spring Onion
£6.50
King Prawn with Sweetcorn
£6.50
King Prawn with Bean Sprouts
£6.50
King Prawn with Cashew Nuts
£6.50
Roast Duck with Mushroom in Black Bean Sauce
Spicy
£6.60
Roast Duck with Green Pepper in Black Bean Sauce
Spicy
£6.60
Roast Duck with Broccoli in Oyster Sauce
£6.60
Roast Duck with Broccoli in Black Bean Sauce
Spicy
£6.60
Roast Duck with Pineapple
£6.60
Roast Duck with Ginger & Spring Onion
£6.60
Roast Duck with Sweetcorn
£6.60
Roast Duck with Bean Sprouts
£6.60
Roast Duck with Cashew Nuts
£6.60
Roast Duck with Bean Sprouts in Orange Sauce
£6.60
Roast Duck with Bean Sprouts in Oyster Sauce
£6.60
Roast Duck with Bean Sprouts in Plum Sauce
£6.60
Roast Duck with Mixed Vegetable
£6.60
Roast Spare Ribs in Canton Sauce
£6.20
Roast Spare Ribs in BBQ Sauce
£6.20
Roast Spare Ribs in Spicy Sauce
Spicy
£6.20
Roast Spare Ribs in Sweet & Sour Sauce
£6.20
Roast Spare Ribs in Plum Sauce
£6.20
Roast Spare Ribs in Honey Sauce
£6.20
Spicy Peppery Spare Ribs
Spicy
£6.40
Stir-Fried Roast Pork, Chicken & Ham
With bean sprouts
£5.50
Sliced Roast Pork, Chicken with Bean Sprouts
In BBQ sauce
£5.50
Roast Pork with Bean Sprouts in BBQ Sauce
£5.50
Roast Pork with Mushrooms
£5.70
Roast Pork with Broccoli in Black Bean Sauce
Spicy
£5.80
Roast Pork with Ginger & Spring Onion
£5.80
Malaysian Style Kung Po Mixed Meat
£6.80
Malaysian Style Kung Po Chicken
Spicy
£6.00
Malaysian Style Kung Po Beef
Spicy
£6.00
Malaysian Style Kung Po Pork
Spicy
£6.00
Malaysian Style Kung Po King Prawn
Spicy
£6.50
Malaysian Style Kung Po Duck
Spicy
£6.50
Malaysian Style Rendang Mixed Meat
£6.80
Malaysian Style Rendang Chicken
£6.20
Malaysian Style Rendang Beef
£6.20
Malaysian Style Rendang Pork
£6.20
Malaysian Style Rendang King Prawn
£6.50
Malaysian Style Rendang Duck
£6.50
Spicy Peppery Chicken
Spicy
£5.90
Spicy Peppery Chicken Wings
Spicy
£5.90
Spicy Peppery King Prawns
Spicy
£6.50
Spicy Peppery Chips
Spicy
£4.30
Roast Duck in Black Pepper Sauce
Spicy
£6.60
Beef in Black Pepper Sauce
Spicy
£6.10
Chicken in Black Pepper Sauce
Spicy
£6.00
King Prawn in Black Pepper Sauce
Spicy
£6.50
Roast Pork in Black Pepper Sauce
Spicy
£6.00
Mixed Meat in Satay Sauce
Spicy
£6.80
Chicken in Satay Sauce
Spicy
£6.00
King Prawn in Satay Sauce
Spicy
£6.50
Roast Pork in Satay Sauce
Spicy
£6.00
Szechuan King Prawn
Spicy
£6.80
Szechuan Roast Pork
Spicy
£6.10
Szechuan Roast Duck
Spicy
£6.50
Szechuan Mixed Vegetables
Spicy
£5.50
Szechuan Mixed Meat
Spicy
£6.80
Mixed Meat in Canton Sauce
£6.80
Chinese Roast Pork Foo Yung
£5.60
Roast Chicken Breast & Chips (Quarter)
£4.80
Mushroom Omelette & Chips
£5.70
Tender Steak in Canton Sauce
£7.40
Tender Steak in Black Bean Sauce
Spicy
£7.40
Tender Steak in Malaysian Sweet & Sour Sauce
£7.40
Tender Steak in Black Pepper Sauce
Spicy
£7.40
Mixed Vegetable in Black Bean Sauce
Spicy
£5.20
Mixed Vegetable in Cashew Nuts
£5.20
Mixed Vegetable in Satay Sauce
Spicy
£5.20
Stir-Fried Broccoli with Mixed Vegetable
£5.20
Stir-Fried Broccoli in Black Bean Sauce
With mixed vegetable
Spicy
£5.20
Vegetarian Singapore Chow Mein
Spicy
£5.20
Vegetarian Singapore Fried Rice
Spicy
£5.20
House Special Fried Rice
With slices chicken & pork on top with BBQ sauce
£6.00
Shredded Roast Duck Fried Rice
£6.20
Singapore Fried Rice
Spicy
£5.70
Chinese Roast Pork Fried Rice
£5.60
Thai Spicy Fried Rice
Spicy
£5.90
Roast Duck on Fried Rice with BBQ Sauce
£6.20
Mixed Meat Satay Fried Rice
Spicy
£6.30
House Special Chow Mein
With slices chicken & pork on top with BBQ sauce
£6.00
Yung Chow Chow Mein
Dry stir-fried
£5.70
Singapore Chow Mein
Dry stir- fried
Spicy
£5.80
Chinese Roast Pork Chow Mein
£5.80
Sambal Chow Mein
Dry stir-fried
Spicy
£6.00
Vermicelli Singapore Style
Spicy
£6.10
Bamboo Shoots & Water Chestnuts
£3.40
Fried Rice, Chips & Curry Sauce Mixed
£4.10
Set Meal For 1 Beef
Vegetable mini spring rolls (5)
Sweet & sour chicken balls (half)
Any chicken OR beef dish
Egg fried rice
Prawn crackers
£12.30
Set Meal For 1 Chicken
Vegetable mini spring rolls (5)
Sweet & sour chicken balls (half)
Any chicken OR beef dish
Egg fried rice
Prawn crackers
£12.30
Set Meal For 2
Aromatic crispy duck (quarter)
Sweet & sour chicken ball
Choose any 2 chicken OR beef dishes
Yung chow fried rice
Prawn crackers
£29.30
Set Meal For 3 (Large Portions)
Roast spare ribs in BBQ sauce (two small)
Sweet & sour chicken (15)
Choose any 4 of chicken OR beef dishes
2 X Yung chow fried rice (small)
2 X Prawn crackers
£41.30
Set Meal For 4 (Large Portions)
Special mixed hors d'oeovres (spare ribs, curried samosa, prawn toast, mini spring rolls 4 each)
Aromatic crispy duck (half)
Sweet & sour chicken balls (15)
Choose any 4 chicken OR beef dishes
2 X Yung chow fried rice
2 X Prawn crackers
£51.30
Contact Us
Find Us
95 Victoria Road, Plymouth, PL51RX
We deliver to
PL1, PL2, PL5, PL6