About Us
China Valley is a Chinese takeaway in Plymouth. Why don't you try our Boiled Rice or Aromatic Crispy Duck?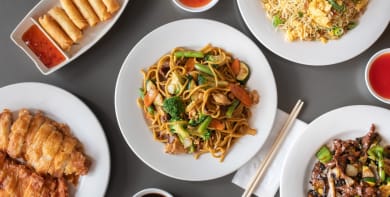 Reviews
240 reviews
Shaun
"Absolutely cracking meal tonight! And delivered early too. 5* all round. Thanks!"
16/08/2022
Fletcher
"We're staying in Plymouth due to hospital appointments (from scotland) and this is one of the best Chinese we've had. Defo use again when we're down on holiday next year too"
11/08/2022
Ann
"Excellent as always, thank you China Valley!"
26/07/2022
Natalie
"Was the best Chinese food I have had really enjoyed it I will deffo be ordering from China valley again"
21/07/2022
Menu
Roast Spare Ribs in BBQ Sauce (Half)
£6.60
Spicy Peppery Chicken Wings (Half)
Spicy
£4.60
Chicken Wings in Sambal Sauce (Half)
Sambal sauce is a Malaysian sweet & spicy sauce
Spicy
£4.60
Chicken Wings in Black Pepper Sauce
Spicy
£4.60
Crispy King Prawn (8) with Thai Chilli Sauce Dip
Spicy
£5.10
Crispy Won Ton (9)
Deep fried minced prawn in pastry with sweet & sour sauce
£5.00
Aromatic Crispy Duck Quarter
With pancake, spring onions, cucumbers & Hoi Sin sauce
£8.90
Aromatic Crispy Duck Half
With pancake, spring onions, cucumbers & Hoi Sin sauce
£16.10
Malaysian Style Chicken Satay on Skewers
£5.70
Roast Spare Ribs in Honey Sauce (Half)
£6.50
Malaysian Style Beef Satay on Skewers
£5.70
Malaysian Style King Prawn Satay on Skewers (9)
£6.00
Spicy Peppery Ribs (Half)
Spicy
£7.20
Vegetarian Mini Spring Rolls (10)
£3.90
Chicken Wings in Honey Sauce (Half)
£6.70
Prawn on Toast with Sesame Seeds (6)
100% Prawn
£4.60
Curried Samosa (10)
Spicy
£4.50
Special Mixed Hors D'oeuveres
Spare ribs, curried samosa, prawn toast, mini spring rolls 4 each
£6.40
Chinese Style Tomato Soup
Choose from chicken, prawn, crab meat
£6.50
Crab Meat & Sweetcorn Soup
£4.60
Mixed Vegetable Curry
Spicy
£5.80
Thai Shrimp Curry Green
Hot
£6.60
Thai Shrimp Curry Red
Hot
£6.60
Thai Roast Pork Curry Green
Hot
£6.60
Thai Roast Pork Curry Red
Hot
£6.60
Thai Roast Duck Curry Green
Hot
£7.20
Thai Roast Duck Curry Red
Hot
£7.20
Thai Mixed Vegetable Curry Green
Hot
£6.40
Thai Mixed Vegetable Curry Red
Hot
£6.40
Thai Mixed Meat Curry - Red
Hot
£6.30
Thai Mixed Meat Curry - Green
Hot
£3.70
Thai Beef Curry - Green
Hot
£6.60
Thai Beef Curry - Red
Hot
£6.40
Thai Chicken Curry - Green
Hot
£3.90
Thai Chicken Curry - Red
Hot
£6.70
Thai King Prawn Curry - Green
Hot
£2.60
Thai King Prawn Curry - Red
Hot
£3.80
Sweet & Sour Chicken Balls
£6.30
Sweet & Sour Chicken HK Style
£16.10
Sweet & Sour Prawn HK Style
£6.30
Sweet & Sour Pork HK Style
£6.60
Beef with Ginger & Spring Onion
£6.50
Beef with Mushroom in Black Bean Sauce
Spicy
£6.20
Sliced Beef with Bean Sprouts
£6.40
Shredded Crispy Beef in Spicy Sauce
Spicy
£6.60
Beef with Green Pepper in Black Bean Sauce
Spicy
£5.80
Beef with Broccoli in Oyster Sauce
£7.20
Beef with Broccoli in Black Bean Sauce
Spicy
£3.70
Chicken with Ginger & Spring Onion
£6.50
Chicken with Bean Sprouts
£6.40
Chicken with Mushrooms in Black Bean Sauce
Spicy
£5.20
Chicken with Green Pepper in Black Bean Sauce
Spicy
£6.40
Sliced Chicken & Bean Sprouts in BBQ Sauce
£6.40
Chicken Wing & Honey Sauce
£6.40
Crispy Chicken in Sweet Thai Chilli Sauce
Spicy
£6.70
Crispy Chicken in Plum Sauce
£6.70
Chicken with Broccoli in Oyster Sauce
£6.60
Crispy Chicken in Fruity Sauce
£6.70
Honey Mustard Chicken & Sesame Seeds
£6.90
Golden Chilli Chicken
Hot
£6.80
Shredded Crispy Chicken in Spicy Sauce
Spicy
£6.60
Chicken with Broccoli in Black Bean Sauce
Spicy
£2.60
King Prawn with Mushrooms
£6.70
King Prawn with Pineapple
£7.10
King Prawn with Ginger & Spring Onion
£7.10
King Prawn with Sweetcorn
£7.10
King Prawn with Mushrooms in Black Bean Sauce
Spicy
£6.40
King Prawn with Bean Sprouts
£7.10
King Prawn with Cashew Nuts
£7.10
King Prawn with Green Pepper & Black Bean Sauce
Spicy
£5.80
King Prawn with Broccoli in Oyster Sauce
£6.60
King Prawn with Broccoli in Black Bean Sauce
Spicy
£2.80
Roast Duck with Pineapple
£7.20
Roast Duck with Ginger & Spring Onion
£7.20
Roast Duck with Sweetcorn
£7.20
Roast Duck with Bean Sprouts
£7.20
Roast Duck with Mushroom in Black Bean Sauce
Spicy
£7.10
Roast Duck with Cashew Nuts
£7.20
Roast Duck with Bean Sprouts in Orange Sauce
£7.20
Roast Duck with Green Pepper in Black Bean Sauce
Spicy
£6.40
Roast Duck with Bean Sprouts in Oyster Sauce
£7.20
Roast Duck with Bean Sprouts in Plum Sauce
£7.20
Roast Duck with Mixed Vegetable
£7.20
Roast Duck with Broccoli in Oyster Sauce
£4.10
Roast Duck with Broccoli in Black Bean Sauce
Spicy
£3.80
Roast Spare Ribs in Canton Sauce
£6.50
Roast Spare Ribs in BBQ Sauce
£7.20
Spicy Peppery Spare Ribs
Spicy
£7.00
Roast Spare Ribs in Spicy Sauce
Spicy
£7.20
Roast Spare Ribs in Sweet & Sour Sauce
£6.60
Roast Spare Ribs in Plum Sauce
£3.10
Roast Spare Ribs in Honey Sauce
£4.40
Stir-Fried Roast Pork, Chicken & Ham
With bean sprouts
£6.10
Sliced Roast Pork, Chicken with Bean Sprouts
In BBQ sauce
£6.10
Roast Pork with Bean Sprouts in BBQ Sauce
£6.10
Roast Pork with Mushrooms
£6.30
Roast Pork with Broccoli in Black Bean Sauce
Spicy
£6.40
Roast Pork with Ginger & Spring Onion
£6.40
Malaysian Style Kung Po Mixed Meat
£4.60
Malaysian Style Kung Po Chicken
Spicy
£6.50
Malaysian Style Kung Po Beef
Spicy
£6.40
Malaysian Style Kung Po Pork
Spicy
£6.60
Malaysian Style Kung Po King Prawn
Spicy
£4.00
Malaysian Style Kung Po Duck
Spicy
£3.30
Malaysian Style Rendang Chicken
£6.30
Malaysian Style Rendang Mixed Meat
£7.70
Malaysian Style Rendang Beef
£5.80
Malaysian Style Rendang Pork
£7.20
Malaysian Style Rendang King Prawn
£4.30
Malaysian Style Rendang Duck
£3.40
Spicy Peppery Chicken
Spicy
£6.50
Spicy Peppery Chicken Wings
Spicy
£6.50
Spicy Peppery King Prawns
Spicy
£7.10
Spicy Peppery Chips
Spicy
£4.90
Roast Duck in Black Pepper Sauce
Spicy
£7.20
Beef in Black Pepper Sauce
Spicy
£6.70
Chicken in Black Pepper Sauce
Spicy
£6.60
King Prawn in Black Pepper Sauce
Spicy
£7.10
Roast Pork in Black Pepper Sauce
Spicy
£6.60
Mixed Meat in Satay Sauce
Spicy
£6.80
Chicken in Satay Sauce
Spicy
£6.60
King Prawn in Satay Sauce
Spicy
£7.10
Roast Pork in Satay Sauce
Spicy
£6.60
Szechuan King Prawn
Spicy
£7.40
Szechuan Roast Pork
Spicy
£6.70
Szechuan Roast Duck
Spicy
£7.10
Szechuan Mixed Vegetables
Spicy
£6.10
Szechuan Mixed Meat
Spicy
£7.40
Mixed Meat in Canton Sauce
£7.40
Chinese Roast Pork Foo Yung
£6.20
Roast Chicken Breast & Chips (Quarter)
£6.60
Mushroom Omelette & Chips
£6.30
Tender Steak in Canton Sauce
£8.90
Tender Steak in Black Bean Sauce
Spicy
£6.50
Tender Steak in Malaysian Sweet & Sour Sauce
£7.20
Tender Steak in Black Pepper Sauce
Spicy
£3.30
Mixed Vegetable in Black Bean Sauce
Spicy
£5.80
Mixed Vegetable in Cashew Nuts
£5.80
Mixed Vegetable in Satay Sauce
Spicy
£5.80
Stir-Fried Broccoli with Mixed Vegetable
£5.80
Stir-Fried Broccoli in Black Bean Sauce
With mixed vegetable
Spicy
£5.80
Vegetarian Singapore Chow Mein
Spicy
£5.80
Vegetarian Singapore Fried Rice
Spicy
£5.80
House Special Fried Rice
With slices chicken & pork on top with BBQ sauce
£7.10
Shredded Roast Duck Fried Rice
£6.80
Singapore Fried Rice
Spicy
£6.30
Chinese Roast Pork Fried Rice
£6.20
Thai Spicy Fried Rice
Spicy
£6.50
Roast Duck on Fried Rice with BBQ Sauce
£6.80
Mixed Meat Satay Fried Rice
Spicy
£6.60
House Special Chow Mein
With slices chicken & pork on top with BBQ sauce
£6.60
Yung Chow Chow Mein
Dry stir-fried
£6.30
Singapore Chow Mein
Dry stir- fried
Spicy
£6.40
Chinese Roast Pork Chow Mein
£6.40
Sambal Chow Mein
Dry stir-fried
Spicy
£6.60
Vermicelli Singapore Style
Spicy
£6.70
Bamboo Shoots & Water Chestnuts
£3.70
Fried Rice, Chips & Curry Sauce Mixed
£4.40
Set Meal For 1 Beef
Vegetable mini spring rolls (5)
Sweet & sour chicken balls (half)
Any chicken OR beef dish
Egg fried rice
Prawn crackers
£13.50
Set Meal For 1 Chicken
Vegetable mini spring rolls (5)
Sweet & sour chicken balls (half)
Any chicken OR beef dish
Egg fried rice
Prawn crackers
£13.50
Set Meal For 2
Aromatic crispy duck (quarter)
Sweet & sour chicken ball
Choose any 2 chicken OR beef dishes
Yung chow fried rice
Prawn crackers
£29.90
Set Meal For 3 (Large Portions)
Roast spare ribs in BBQ sauce (two small)
Sweet & sour chicken (15)
Choose any 4 of chicken OR beef dishes
2 X Yung chow fried rice (small)
2 X Prawn crackers
£41.90
Set Meal For 4 (Large Portions)
Special mixed hors d'oeovres (spare ribs, curried samosa, prawn toast, mini spring rolls 4 each)
Aromatic crispy duck (half)
Sweet & sour chicken balls (15)
Choose any 4 chicken OR beef dishes
2 X Yung chow fried rice
2 X Prawn crackers
£51.90
Contact Us
Find Us
95 Victoria Road, Plymouth, PL51RX
We deliver to
PL1, PL2, PL5, PL6